About us
The Vietnam Wealth Advisors (VWA) is a non-profit professional body which is incorporated as a social enterprise. The VWA is dedicated to developing and promoting an industry providing unbiased financial advice to the Vietnamese public. The VWA is also targeting to promote the financial literacy in Vietnam to the public community.
The Vietnam Wealth Advisors is initially operated as a group in a social network which comprises of 50,000 members up to the date of establishment when a group of reputable financial advisors, fund managers, directors of securitities companies, insurance companies decided to establish officially as a legally accepted non-profit organization.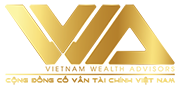 VWA Community is a specialized Community of Finance, Investment and Wealth Management.
Towards healthy goals and reach major accounts. Share planning method (Planning) and personal finance management (Personal finance), consulting method (Investing), portfolio management method (Portfolio management) and corporate finance business transactions (Corporate Finance).
VWA Board of Advisors includes reputable financial experts, fund managers, directors of securities companies, and insurance companies